Webinar on Accelerating Data Science Workloads With GPUs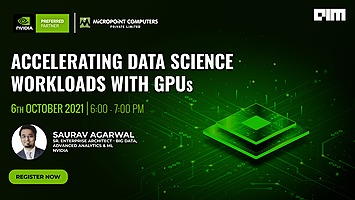 When: Wed, Oct 6, 2021, 6:00 PM - 7:00 PM IST
To know more about how NVIDIA GPUs and SDKs can help you accelerate your data science projects, join us for the webinar on "Accelerating Data Science Workloads with GPUs" organized by Analytics India magazine in association with NVIDIA & Micropoint Computers Pvt Ltd on 6th October 2021.
Helmed by Saurav Agarwal, Sr. Enterprise Architect - Big Data, Advanced Analytics & ML, at NVIDIA, the session will cover how data science pipelines work in the industry and how they can be supercharged with open-source frameworks to speed up them.
The webinar will cover — - Understanding the workings of a data science pipeline & how the performance can be enhanced with open source frameworks. - Get familiarised with data science architecture and workflows in the industry - Get hands-on examples of speeding up these workflows using open source libraries. Who should attend? - Data science, data engineering, analytics & AI enthusiasts - Data engineering professionals & aspirants - Aspiring data scientists - Working professionals interested in the analytics domain - Data science & analytics professionals looking to pivot - Students from engineering/technical background - Graduates of Maths, Science, Economics or Statistics Speaker Details: Saurav Agarwal - Sr. Enterprise Architect - Big Data, Advanced Analytics & ML, NVIDIA

Saurav has around ten years of data industry experience implementing AI/data science/analytics solutions on big data platforms, including large-scale data lake systems. He is an experienced senior architect and seasoned data engineer with experience building distributed real-time data science pipelines. Along with having hands-on architecture and implementation experience in enterprise data landscapes, including Hadoop and Spark ecosystems, Saurav has been part of multiple large-scale projects covering end-to-end data landscape solutions for automotive, supply chain, healthcare, banks, fintech, and more.